Harris Update January 24, 2009
We were so spiritually prepared to come to India. I remember praying on our couch at home with Lori, "God we don't belong here. We're already in India." Our bags had been packed for days. I felt like our spirits had already come here and our bodies just needed to come here to catch up. Now that I'm here I feel that same feeling, except now I'm really here.
I knew when we came to India and would be around Indians. I thought only if we went out we would cross paths with some Indians. My main emphasis would be learning the K-Team way. Now that we're here, if you want to see the people, look out the window. When you go in our courtyard, they stick their hands through the bars, and sometimes wander in. They think we're all rich people. They follow you down the street with their hands out. How do you talk to these people, Lord? How do you relate Jesus to them? How do you live Jesus to them?
I thought the heat would be a problem or water. I just didn't realize how immersed we would be in noise. It is totally insane. It's like we're in Max Headroom or Blade Runner or the Terminator. I never in my life expected to live in an environment like that. It's so filthy. At Mercy Ships I constantly sorted through images of poverty in Liberia. Not even that could prepare me for this. This is so urban. It's almost a nightmare.
I was not prepared for pollution. We're trapped in it. It always smells like someone just set off a large package of firecrackers. We somewhat have blocked the smell in our room, but as soon as you walk into the hall you are knocked over by it.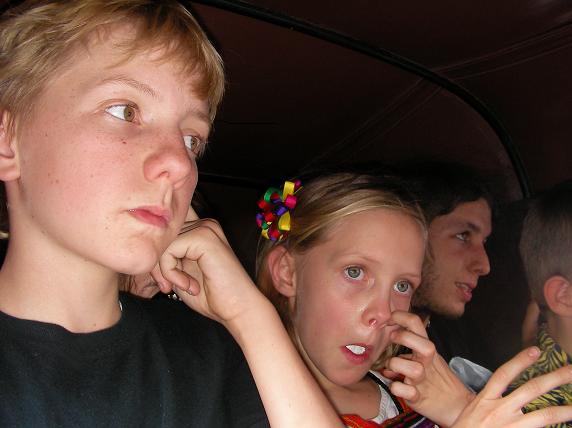 We took a rickshaw downtown Friday during our half-day off. I was telling Lori about all the scrawny dogs I had seen living on the street. "I wonder where the cows are?" We pulled up at our destination at the clothing district and there were two cows nuzzling through the street garbage.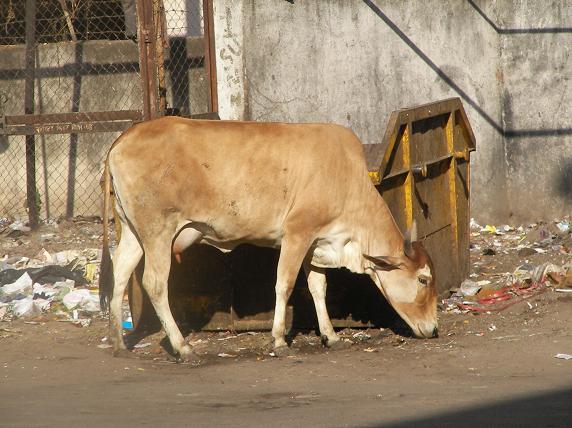 Downtown there were more predictable streets than right next to our property. It reminded me of Chinatown in San Francisco or of St. Martin, Virgin Islands. In the V.I. Lori and I wanted to get off the beaten path and see the real people on that vacation. Here you don't have to leave the pretty tourist area. There isn't one. Its like Honolulu mutated into a horror film. I have seen not one patch of grass. There is no beauty. There may have been mountains we passed through on the way, but that was in the middle of the night.
<![if !supportEmptyParas]> <![endif]>
We walked downtown for over an hour. There were deformed beggars sitting on the sidewalk with no le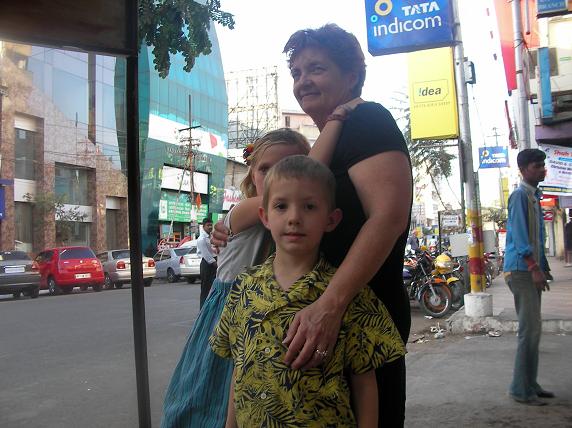 gs. People were staring at our blond haired children You had to walk through rubble and dirt in the gutter and against the buildings next to the sidewalk. People sweep dirt up that will only return the next day. I thought the Canton, TX trade days were nuts. That's orderly compared to here. There is no order here. There's religion all over the place, but it's a mess of religious articles. How to you talk to these people?
We did meet one cute little old man in a tan leather jacket who approached us after 6:30 Mass yesterday. We said we were from Texas. He said "Oh, Texas like Audey Murphey is from? I like Old American movies, like Burt Lancaster." He said two of his sons were autistic and the other was dyslexic. One had a detached retina that he had to take into Mumbai today. His children are probably ill from all the pollution.
We're bonding quite well with the L-5 people. Some are the Pune DTS students soing the L-5 as part of their discipleship school. I ate dinner with the girl from Seattle last night. She says she's engaged to a Canadian. (I say that because we are fishing for YWAMers to bring to Texas) The Walker family from Canada has everyone impressed. The two older daughters are 14 and 17. They hang out with 19 year old Alex, who did her DTS at YWAM Tyler in 2007.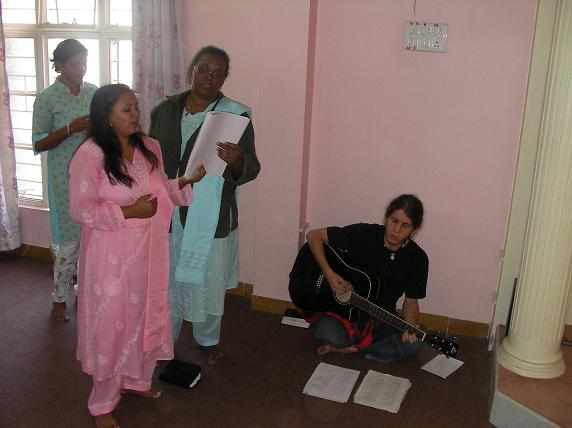 James is quite taken up with DTS staffer, Zeger (rhymes with eager) from Holland who, like our Charlie back home, turns 22 during this school. Zeger is an expert at negotiating with the Indians for rickshaws and other purchases.
Yesterday in school I learned of "Community." We heard testimonies of convenant communities in India and Uganda. I don't have the total feel for that concept yet. There's one young man who has given his life to a community, like a seminarian, but he's not going to be a priest. He just serves the community. These African and Indian ladies are so reserved in our school. I must dig into them. They're more open with Lori. I was so used to the Teen Mania girls who would talk to you.
Robert the Aussie is a hoot, very proud of his country. Big, tender-hearted white- headed man. Damacias has stolen Lori's heart. She's finishing an article on him.
As I close, the day school behind us across the barbed wired wall is having an outdoor Saturday performance for some of the parents complete with dancing. They're banging a large drum throughout their presentation. Its been going on for over an hour, to the harmony of the cars and motorcycles honking from all directions.
We do still need your support to pay for our school tuition. We also have to pay to get online. Yesterday I paid 80 rupees (about two dollars) to be online for 1.5 hours to post my first report. If any readers can help us out with $10 it would really help.
We're off all day today, Saturday, and tomorrow is a lot of classes, with an old fashioned YWAM "Love Feast" in the evening. Have a great weekend. Alan

Happy Birthday, Baby!
<![if !supportEmptyParas]> by Lori Harris January 26, 2009
Twenty-five years ago today my life was forever changed by the birth of our first baby, a huge-eyed, blue-eyed, curly headed, cotton topped baby doll who chose to disturb our peace and side track our plans to make her own. She hasn't stopped yet.
<![if !supportEmptyParas]> <![endif]>
We planned her and named her without the help of a sonogram. We found a wonderful midwife to birth her at home with us and we were anxious to get the three of us to our new life and business in California.
<![if !supportEmptyParas]> <![endif]>
With weeks to go before this little lady was due, Alan was to go ahead to LA and be back before said baby came. We drove to Dallas to put him on a plane and I spent the night with my aunt before I would drive back to our apartment in Nacogdoches, TX. Oh, not so!
<![if !supportEmptyParas]> <![endif]>
My water broke during the midnight hours. I walked around the bedroom praying and asking the Lord to let me know when to wake my aunt to head back home. About sunup I called my midwife to warn her of the change in plans, called Alan (who had stopped at my sister's in West Texas on the way to California), and then gave my sweet auntie the wake-up call.
<![if !supportEmptyParas]> <![endif]>
Only God could have allowed me to be with this aunt. She was the only one who was brave enough to trust me. We loaded her back seat with a bucket and blankets and headed off on a 3-hour drive from Dallas to Nacogdoches, just so her favorite niece could have her baby at home.
<![if !supportEmptyParas]> <![endif]>
She broke speed records while I mooned truck drivers. To avoid bearing down, I used the two clothes hanger hooks to pull up on. God bless dear Aunt Jean for talking to herself the whole way. Every time she looked back and saw me she threatened to pull into the next town's hospital and dump me. I told her I would never forgive her if she did that to me and reminded her she had been born at home and turned out just fine. Just drive!
<![if !supportEmptyParas]> <![endif]>
We pulled into my little college town apartment building looking like a scene straight out of a Keystone Cop caper. I barreled out of her old boat of a Pontiac and headed up the metal stairs in my floor-length maroon velour robe and into our little frozen apartment. Being the good stewards that we were, we had cut off the water heater and the heat and it was about 30* outside. (Really, we couldn't afford the bill!)
<![if !supportEmptyParas]> <![endif]>
While my aunt unloaded the car, I lit the water heater (yep, I did… picture that in that huge bellied maroon robe with me up under a water heater and in labor) and then turned on the furnace. I was glad no one was home in our little four-plex apartment as I finally got to let it all hang out and be me.
<![if !supportEmptyParas]> <![endif]>
My midwife's timing was great. Carol walked in and sat Aunt Jean down in the corner.
<![if !supportEmptyParas]> <![endif]>
"Now Auntie, you just sit right here and watch. We are about to have a baby! We know what we are doing and you don't have a thing to worry about," declared Carol.
At this point what could she do but believe her?
<![if !supportEmptyParas]> <![endif]>
I had laid out newspapers around the floor of our little studio apartment where we had previously set up a twin bed to birth on (our king size waterbed not being real conducive to a homebirth), while Carol was busy trying to set up and convince Aunt Jean she didn't need to boil water or tear rags.
<![if !supportEmptyParas]> <![endif]>
When Carol declared us ready, I mounted the twin bed and out popped the "World Changer" in less than 30 minutes of our arrival into the apartment. I think she had been waiting to make her entrance for a while. She spared me the loss of face by letting me make it home.
Carol wrapped our big-eyed girl in towels and handed her off to Drop Mouthed Auntie in the corner while we birthed the placenta.
<![if !supportEmptyParas]> <![endif]>
The phone rang.
<![if !supportEmptyParas]> <![endif]>
On the other end was my mother, sister and Alan who had just landed in Dallas and were getting in a car to head to us. We handed the phone to Drop Mouth while we cleaned up.
<![if !supportEmptyParas]> <![endif]>
She found her voice.
<![if !supportEmptyParas]> <![endif]>
"Congratulations Grandma, you have never seen anything like this before in your life! Why, they just got down to business and popped out a baby. I don't even remember having my four because I was knocked out. She jumped up, cleaned up the newspaper, changed the sheets on the bed and now they're in the kitchen just making tea. Them two are acting like people do this everyday! They are naming her after Moma, did you know that?"
<![if !supportEmptyParas]> <![endif]>
I'm wasn't sure my aunt has recovered yet.
<![if !supportEmptyParas]> <![endif]>
The fact that her name was Juanita was a cause for celebration. I had the great joy of calling my 83 year old grandma and telling her she had a new great granddaughter with her name. Her reaction: "Show nuf? Whacha go and name her that for?" I told her that I didn't know anybody else on earth who could pray like her and that was good enough reason.
We haven't regretted the decision. She's lived up to her namesake.
<![if !supportEmptyParas]> <![endif]>
Thus my little World Changer made her spectacular entrance. Her daddy wasn't there for it as we had planned, but we survived. We moved to California eight weeks later and there she became my only friend for the first months of her life.
<![if !supportEmptyParas]> <![endif]>
We were busy setting up a new business in a town where we had no relatives. We lived in a little apartment and Alan would go off to work everyday. I missed my family and friends but I had a new little person in my life and she relished the role of being the Only One.
<![if !supportEmptyParas]> <![endif]>
My whole life revolved around this little darling. She commanded my every minute and I didn't mind. She was my best friend then and all I had besides Alan for quite awhile.
<![if !supportEmptyParas]> <![endif]>
Twenty-five years later she is still a World Changer. She has turned into a beautiful woman of God, who still has a mind of her own, just like we raised her to. She has made excellent choices and has become a reflection of the praying woman she was named for.
<![if !supportEmptyParas]> <![endif]>
As I write this we are in different countries and I can't even tell her Happy Birthday. I can't tell her that on the day twenty-five years after my life was forever changed. She paved the way for six more to follow but she will always hold the place of the first. More than likely, I won't get to hear her voice for several more weeks and I won't be able to know where she is or the conditions of her safety.
<![if !supportEmptyParas]> <![endif]>
The only thing I can do for her is what she does best. Pray. So here it is:
<![if !supportEmptyParas]> <![endif]>
Holy God, who looked down from Heaven and sent your Only Son to become human and live among us, suffer, die and be buried only to rise again to bring us eternal life. Grant that wherever Juanita is on this very special day in her life, that you will bring her comfort. May she feel your love and the love and prayers of her family. May she truly understand the only life worth living is the life worth giving so that others come to know what forgiveness is. May she know your peace in the midst of turmoil all the days of her life and may the Mother of the Son, be my advocate and wrap her arms around my baby and hold her, rock her and tell her how much her mother loves her on this very special day.
<![if !supportEmptyParas]> <![endif]>
Happy Birthday, Baby.
I love you,
Mommy
<![if !supportEmptyParas]> <![endif]>
<![if !supportEmptyParas]> I got overwhelmed yesterday and deeded to shut down.
Even though our sleeping is on schedule, I don't sleep well. It's warm. Even the locals are complaining. We only use a sheet over us. We all sleep on our own twin beds. I wake up every hour or two.
Bathing is fun. There's blistering hot water down the hall that we use to wash our clothes in, or haul a large bucket full to our room. I stand in one bucket and pour hot water over me with a large measuring cup. John likes it. Only James takes cold showers still.
A guy from the very beginning of YWAM is here teaching this week, Bruce Clewett, of YWAM ,Austria. He's way cool, from California, over 30 years ago. I'm going to try to film "Live fro L-5" YouTube reports starting with him today. He thought it was a cool idea.
Yesterday Bruce spoke about unity in organizations how we must teach first the history to new people – how we got here. Then the Core Values and then the vision, in that order. He said protestants and Catholics have the same core values, but in different order.
Lori and I discussed with each other the steps and lessons God used to bring us to this point, from leaving Mercy Ships, joining Woodcrest with no promised support. Then declaring we were going to India and getting prayed out by everyone and packing our bags when we were thousands of dollars short of our airfare. Thus far the Lord has brought us.
This place definitely gives me a new world-perspective. No wonder they think all Americans are rich. We are. Living in Garden Valley makes a person long for mission trips. It's in the air. Being here in India now seems so completing. I understand the "fever" of "going there fore." We're so safe in our little Christian World, driving 3 miles to work on an empty paved, clean country road with grass and trees on each side. Most of these people have never seen anything like it. How spoiled we are. You have to leave to appreciate it.
Tell your friends to read our posts. Give us feedback.