Charismatic approach enriches faith with Holy Spirit, priests told
Catholic East Texas Newspaper, May 7, 2010

By Jo Anne Flores Embleton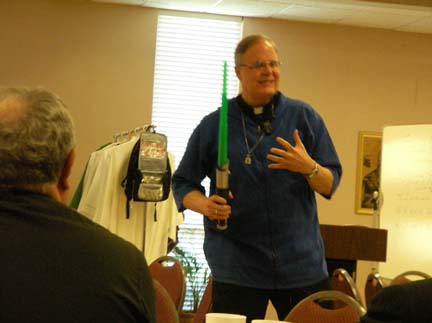 TYLER – Employing a charismatic approach to ministry doesn't lessen the impact of the Catholic faith, but enriches it with the Holy Spirit, Father Bob Hogan, BBD, told fellow priests at an April 29 clergy day gathering in Tyler.
Drawing on pop-culture imagery, Father Hogan began talking about the story line from the original Star Wars movie, in which Jedi knights were taught to "use the force."
With a plastic light saber prop in hand, the priest began slicing through the air with the toy as he pointed out, "The true force is the Holy Spirit. In fact, the word used for 'power on high' in Greek is dunamis, where you get the word 'dynamite' from. So it's the power, the dynamite from on high, God's power coming into our (lives), and we have to learn how to work in companionship and partnership with the Holy Spirit.
"Obi-Wan Kenobi tells him, 'Luke, use the force' – use the force! I think Jesus up there in heaven, constantly telling us, "'Use the force. I sent you the Holy Spirit; better that I leave you so that you can receive power from my God and the love of God poured into your heart,"' he said. "Don't forget to invoke the Holy Spirit. Don't see your lives as outside a partnership with the Holy Spirit, but grow in that partnership."
Father Hogan is co-founder of the charismatic and Marian religious community of brothers and priests called the Brothers of the Beloved Disciple. He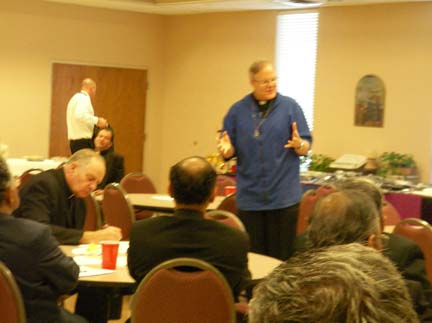 also was the keynote speaker for the April 30-May 2 Life in the Spirit conference at St. Mary Magdalene Church in Flint.
When Christ commanded his apostles at the Last Supper to "Do this in remembrance of me," he said, "at first, that word kind of invites us to remember something that happened in the past. But (it also invites us) to remember something in way that it becomes new again. The Spirit is going to make it very personal for you. That is Jesus' gift to us – (he is ) giving us another advocate."
And that advocate is a bit like having a pro basketball player and a holy woman standing on either side of you, guiding and protecting you, he said.
"Tim Duncan is one of the star players for the San Antonio Spurs, about 6' 11" and 260 pounds – you've got Tim Duncan on one side of you and Mother Teresa of Calcutta on the other side," he said to laughter. "Because if I've got Tim Duncan next to me, I'm not too afraid of anything – nothing's going to happen to me."
Duncan's presence can be likened to what "the Holy Spirit calls 'power from on high,"'he said. "It's the power, the courage that, when (we are) fearful, the Holy Spirit will remove those fears (thus allowing) the love of god (to be) poured into our hearts."
But, he added, the Holy Spirit "is also like Mother Teresa of Calcutta, who worked with and loved the poorest of the poor: someone who lives you and who is going to be there for you no matter what. You feel more confident because you know, 'Hey, even if I messed up, this person has been there before and they're not going to get on to me, but they're going to be there for me.'
"The Holy Spirit is a spirit of power, more powerful than Tim Duncan is, and a spirit of love, even more loving than Mother Teresa of Calcutta. So when I'm living that relationship, my partner – given to me by Jesus, who says 'I send you another advocate' – (it inspires) in me a humble confidence" that Jesus remains with him in the Holy Spirit, Father Hogan said.
The charismatic movement in the Diocese of Tyler first began when people started gathering in the Tyler home Doris and Alfred Brewerton in the 1970's under the approval of Msgr. Milam Joseph, according to Lori Harris, a full-time lay minister working through the Catholic branch of Youth With a Mission ministries.
While a Spanish-language movement has been active
in the diocese for a long while, only in recent years has the English component strengthened when a monthly prayer meeting started at St. Paul's Chapel in the Tyler chancery. A charismatic healing mass was first offered in August 2009.
"There is revival in America right now," Harris said. "Many people are seeing a resurgence in youth becoming more conservative, even more so than their parents, and hungry for moral absolutes. An alive church can give them that. When people see the power of god more than social programs in place in a parish, they will consider that a place where a family can grow together in community as well as spiritually."
The charismatic community meets for Prayer Meeting on the second Monday of the month at St. Paul's Chapel, and in a host home in Tyler on the fourth Monday of the month.
Charismatic healing Masses are celebrated the third Thursday of the month at St. Mary Magdalene Church in Flint, Harris said.
St Paul's Chapel